Home
Toolkit of Promising Practices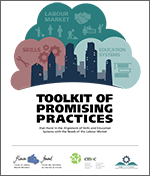 _____________________
Canadians need skills to compete in the global economy now and in the future. Provincial and territorial governments have made skills training and education a key priority. Business, labour, academia, and students also play an important role in making our education and training systems successful.
Skills for the Future, a joint symposium hosted by provincial and territorial education and labour market ministers, will bring together government, business, labour, academic leaders, and student groups to address the skills and training needs of the 21st century.
This invitation-only event provides a unique opportunity for the many partners engaged in this area to discuss current and emerging skills challenges and identify opportunities to strengthen collaboration. This event will showcase innovative promising practices and include presentations from Canadian and international experts on: employer roles and needs; lifelong learning and learning pathways; and experiential and entrepreneurial learning.
Updated on December 11, 2015